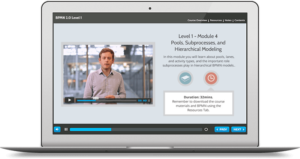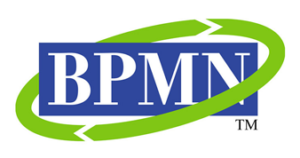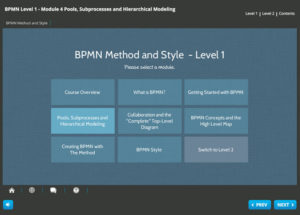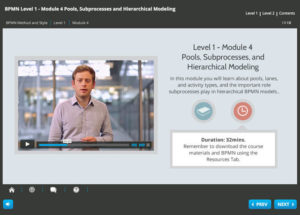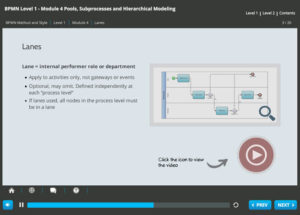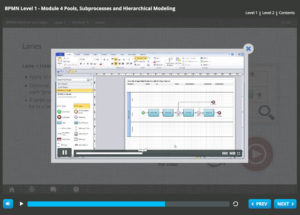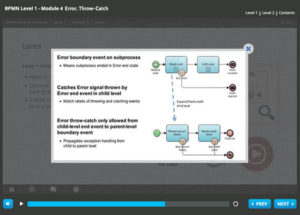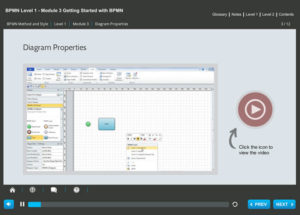 E-learning BPMN 2.0 (LEVEL 1 & 2)
Course Home
Overview
What is BPMN?
Syllabus
Free Trial
Course Home
Kick-start your Business Process Model and Notation training today by taking an accredited BPMN 2.0 eLearning course!
Created by the experts, learn how to confidently map consistent and logical organizational processes in line with version 2.0 of the business process modeling global standard.
The course will teach you how to adhere to a common modeling method, allowing you to create diagrams that can be shared consistently across all business domains.
Why you should take this course:
Learn from the experts with step-by-step tutorials that teach you how to create precise business processes using the BPMN 2.0 standard.
Business Process Model and Notation – BPMN is the de-facto notation standard for business process modeling and provides a common graphical language for end-to-end business process workflows that can be readily adopted and understood in all areas of the business.
Students of this course will be able to confidently apply the rules, methodology and style of the industry standard business process modeling notation.
Browse the course syllabus for a full module by module breakdown of what's included.
With this course, you'll receive 6 months access from the date of purchase as well as FREE 24-hour tutor support!

Overview
What is BPMN?
Syllabus
Free Trial